Scrapbook Kit
Capture the moments that matter. Our Scrapbook kit will motivate and inspire you to create with a thoughtful collection of beautiful and innovative products delivered monthly.
Order by April 30th to receive this month's kit.
*Free Shipping!
*$3 handling fee for international shipping
New kits are revealed on the 1st of each month. As a subscriber, you're invited to shop three hours early during a special presale at noon EST to see what's inside your kit and add more supplies to your box.
Kits ship by the 10th of each month. Free domestic shipping and just $3 for international orders.
Bundle up. Domestic subscribers receive free shipping on orders created between the 1st and the 5th of the month, and our Canadian and International subscribers will pay one fee for all orders during this time. This gives you the freedom to add a little something extra to your kit order, without worrying about an additional shipping charge.
Skip a month. Don't need a kit this month? Simply take the month off. We understand that life gets busy.
Enjoy extra discounts. 10% off online classes and 10% off digital items. Plus, special promotions and discounts are given periodically.
Preview early. Can't wait until next month? Neither can we. See sneak peeks of upcoming kits beginning the 6th of each month.

What's in this month's kit

+

FAR FAR AWAY Scrapbook Kit

Ready for your next big adventure? Let the whimsy of our January kits help your imagination reach new heights. This month's scrapbook kit is filled with fresh embellishments like acetate fruit shapes, burnished veneer diamonds, rubber alphas, and an irresistible stamp set. Enjoy using the bold patterned papers with their mix of cool colors layered with warm orange and pink tones as the perfect base to your layouts. Craft your journeys, from once upon a time to happy ending, with Far Far Away.

Cardstock:
Blush (American Crafts)
Storm (American Crafts)
White Prismatic Paper (Bazzill)
Vanilla (American Crafts)

Patterned Paper:
Comple-mint-ary (Studio Calico)
Patchwork (Life.Love.Paper for Studio Calico)
Fine Print (Life.Love.Paper for Studio Calico)
Pythagorean (Hello Forever for Studio Calico)
Rose-Colored Glasses (Life.Love.Paper for Studio Calico)
Watermark (A Creative Mint for Studio Calico)
Dashing (Studio Calico)
Dahlia (Studio Calico)
Cat's Cradle (Studio Calico)

Embellishments:
Good Times Skinny Washi (Life.Love.Paper for Studio Calico)
Transparent Fruit Shapes
Aqua Punctuation Chipboard Shapes (Studio Calico)
Charcoal Alpha (Studio Calico)
Watercolor Stickers (Studio Calico)
Burnished Veneer Diamonds (Studio Calico)
Rubber Alpha Stickers (Studio Calico)
2x2" Stamp Set by One Little Bird
Why subscribe?
Our subscriptions are fully customizable depending on you. Need to skip a month or add more supplies? You got it.
Join a community that learns from each other, shares ideas, and cultivates lifelong friendships. It's so much more than crafting.
There are extra perks that come with being a subscriber– including bundling with free shipping, class and shop discounts, and a special reveal day presale.
---
Get hyped!
It's even more fun when you share.
Join our creative community and share your kit on Instagram with the hashtag #mysckitishere
Subscribe
Scrapbook Kit not for you? Don't worry, we have something for everyone!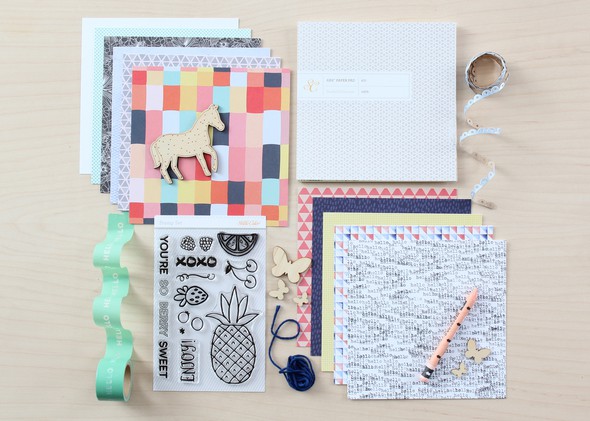 Card Kit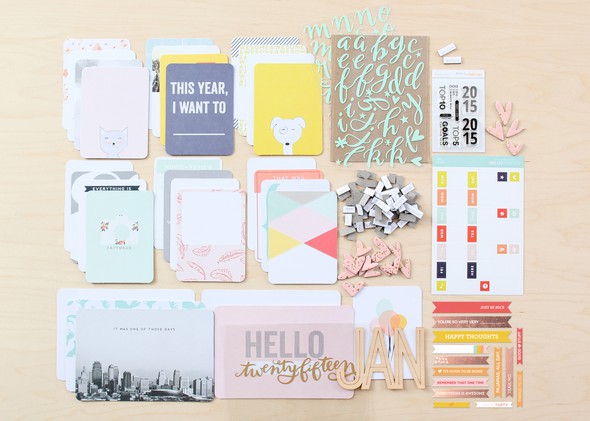 Documenter Kit