Scrapbook Kit
Capture the moments that matter. Our Scrapbook kit will motivate and inspire you to create with a thoughtful collection of beautiful and innovative products delivered monthly.
Order by October 31st to receive this month's kit.
*Free Shipping!
*$3 handling fee for international shipping
New kits are revealed on the 1st of each month. As a subscriber, you're invited to shop three hours early during a special presale at noon EST to see what's inside your kit and add more supplies to your box.
Kits ship by the 10th of each month. Free domestic shipping and just $3 for international orders.
Bundle up. Domestic subscribers receive free shipping on orders created between the 1st and the 5th of the month, and our Canadian and International subscribers will pay one fee for all orders during this time. This gives you the freedom to add a little something extra to your kit order, without worrying about an additional shipping charge.
Skip a month. Don't need a kit this month? Simply take the month off. We understand that life gets busy.
Enjoy extra discounts. 10% off online classes and 10% off digital items. Plus, special promotions and discounts are given periodically.
Preview early. Can't wait until next month? Neither can we. See sneak peeks of upcoming kits beginning the 6th of each month.
What's in this month's kit
+
MARKS & CO Scrapbook Kit
Get lost in the aisles of Marks & Co. We have brand new product from Amy Tangerine (including an exclusive stitching template!) and Dear Lizzy, as well as fresh new designs from Studio Calico and Tim & Beck. You'll find a new story around every corner – and our August kit will help you record them all.
Cardstock:
White (American Crafts) Kraft (American Crafts) Smoke (American Crafts) Rain (American Crafts)
Patterned Paper:
Amy Tan Cut & Paste On the Edge (American Crafts) Amy Tan Cut & Paste (American Crafts) Dear Lizzy Polka Dot Party Polk (American Crafts) Maggie Holmes Flea Market Curio/Open Air (American Crafts) "Sky's the Limit" Layered Ephemera (My Mind's Eye) Twinkle Twinkle (Studio Calico) Air Mail (Tim & Beck) Aztec (Tim & Beck)
Embellishments:
Vellum Pocket Set (American Crafts ) Cabochons & Sequins Pack (Studio Selections) 3x6" Glossy Asterisk Thickers (Studio Calico) 1x6" Amazing Moment Stamp Set (Studio Calico) Wood Veneer Alpha (Studio Calico) Gold Polka Dot Washi (Studio Calico) Dear Lizzy Polka Dot Party Die Cut Paper Frames (American Crafts) Amy Tan Embroidery Kit for Studio Calico (Studio Calico)
Why subscribe?
Our subscriptions are fully customizable depending on you. Need to skip a month or add more supplies? You got it.
Join a community that learns from each other, shares ideas, and cultivates lifelong friendships. It's so much more than crafting.
There are extra perks that come with being a subscriber– including bundling with free shipping, class and shop discounts, and a special reveal day presale.
---
Get hyped!
It's even more fun when you share.
Join our creative community and share your kit on Instagram with the hashtag #mysckitishere
Subscribe
Scrapbook Kit not for you? Don't worry, we have something for everyone!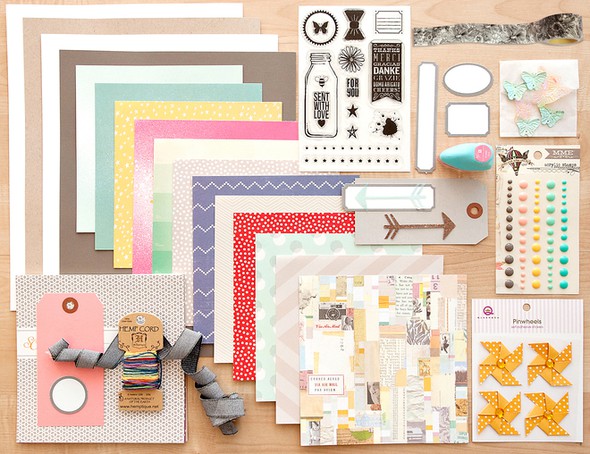 Card Kit
Documenter Kit