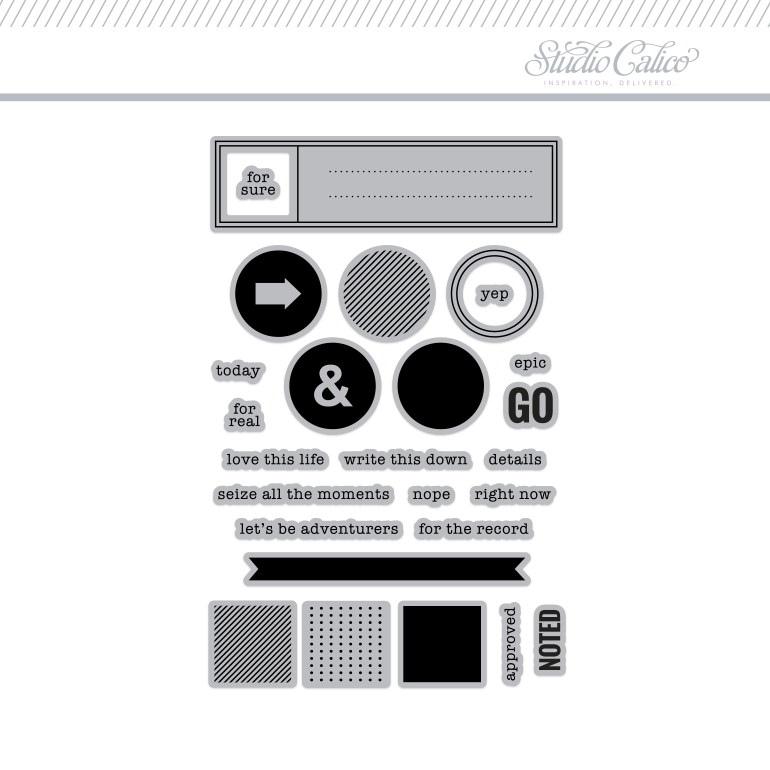 Class Kit
No longer available.
Kit contents:
While supplies last, Well Traveled students will receive a free 4x6in class stamp set, designed by Hello Forever. As an added bonus, these stamps ship free - no matter where you are! With a mix of pattern building staples and "goes with everything" phrases, this stamp set is a perfect match for highlighting the stories you document in your Traveler's Notebooks.
---
What you'll learn
How the TN system works, and how to get started with the notebook of your choice
Tips for setting up your notebook and choosing appropriate supplies
Ideas for sizing and printing photos at a convenient size for your notebook
Unique ideas for using your TN to document everyday life
How to build your own notebook insert using patterned paper
Tips and tricks for documenting in your notebook on the go
How to use prints from the Prynt Pocket in your notebooks
---
Lisa Truesdell
As Studio Calico's Manager of Education, Lisa helps our teachers get their crafty wisdom out of their head and into the classroom, and occasionally teaches herself. Lisa lives the wholesome midwestern life in Omaha with her husband Matthew and their 3 sons (Alex, Ben, & Sam) in a midtown neighborhood filled with big trees and old houses. She's an 11 year crafting industry veteran who loves making, sharing, and creating.
---
---
What comes with this class
12 videos from Lisa covering everything from the very basics of the notebook system to documenting your daily memories to taking a TN on vacation and completing a notebook
Inspiration in the form of two complete notebooks and 12 all new pages from Lisa and her team of contributors
12 Sketches based on each new project from your teacher and contributors
Photo templates for printing notebook-sized photos
Access to a class message board and gallery, where you can share and learn with your teacher, contributors and fellow students
Challenges to inspire you to use what you've learned